60L Salt Spreaders
Ideal for use on for use on Farm roads, yards and parking areas!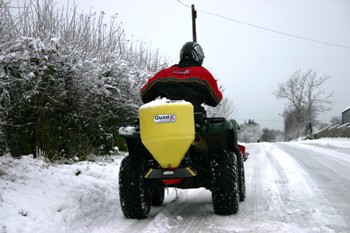 These ATV mounted salt spreaders are available in a 60L capacity and are ideal for treating icy surfaces.  The Quad-X Salt Spreaders have been equipped with special deflector plates and agitation system for use with bagged granular salt
These Salt Spreaders can also be used to spread fertiliser and grass seed to maximise your investment.
Designed and Manufactured in Northern Ireland