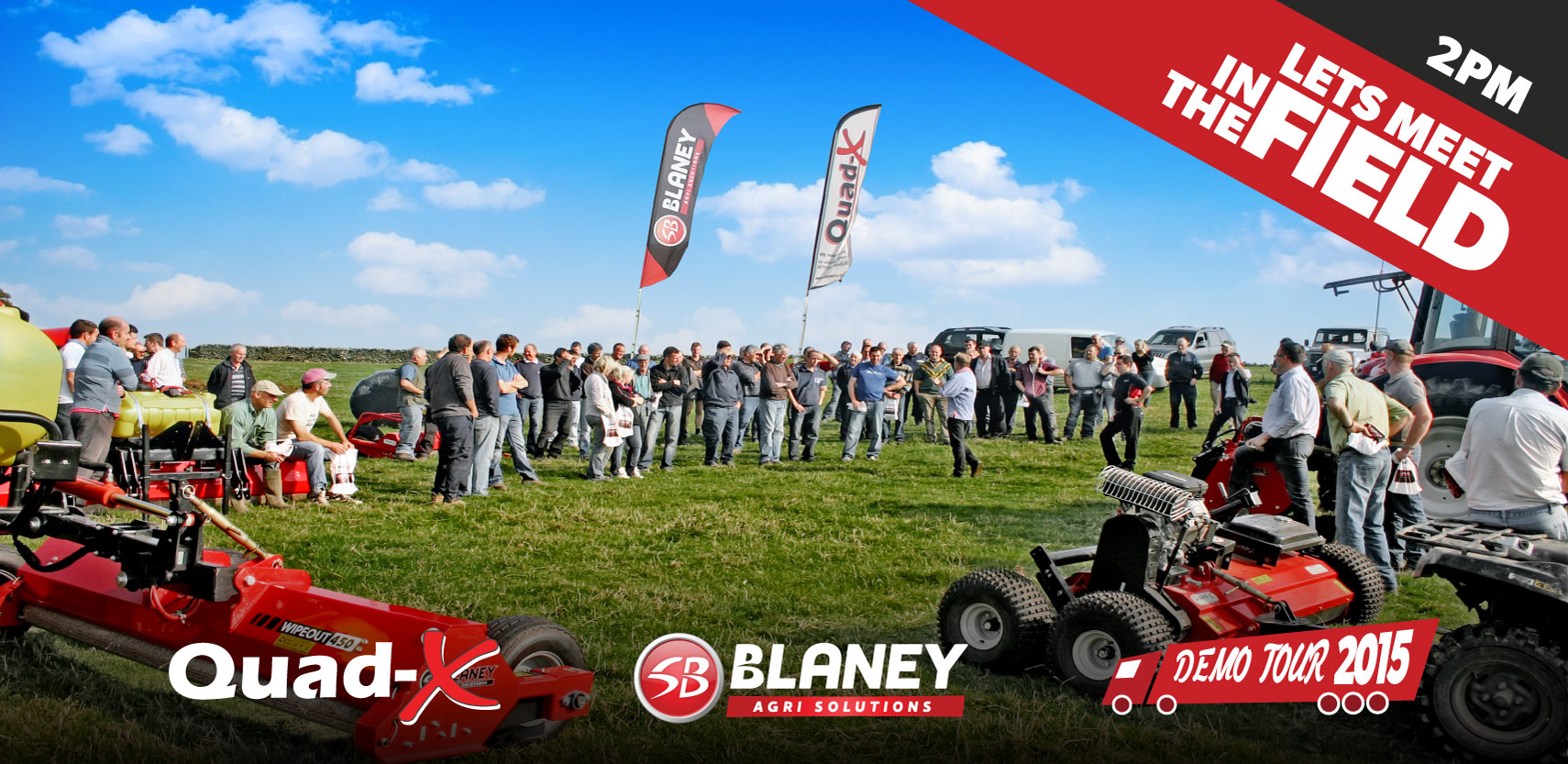 Info
on April 2015, Blaney and Quad-X hosted their largest ever tour of Ireland. Stopping at over 12 locations (North and South) and showcasing over 20 innovative machines, including new unseen products. This was the event to be seen at if you are involved in or care about agriculture in Ireland.
It gave our customers a chance to see our fantastic state of the art machines in action and speak to the team behind the products and Irish Manufacturing at it's best.
On display, we had the World Famous Wipeout, Power Shredder, Forager X10 and Bale Shredder and many more products, as well as new unseen products which proved to be very popular.
Watch this space for more information on upcoming demo tours and other Quad- X and Blaney Agri events.
Updates
The summer came early for the 1st day of the #blaneydemo tour in Kilkenny! Many thanks got to our host farmer Paul Holden and his son, from Holden Plant hire for all their help in organising for the demonstration event. Thanks to Marianne Mulhall and Hugh MacEneaney, Kilkenny Teagasc advisors for the participation at the workshop.  more picture to follow in the coming days! Great location to demonstrate some great machines. […]
Don't miss your local Blaney Agri machinery demonstration, where Teagasc advisors will be attending. Workshops will include advice and live machinery demonstrations on many topics including: – Rush Control – Weed Kill – Land Eligibility – Soil improvement – Pesticide reduction – Grass management – Efficient Round Bale Feeding – Preparing grass for baling Events start at each 2pm. Come early to see all the action.
Reclaim your land with a Blaney Agri Power Shredder 2™! Blaney have pioneered mowers for a fine chop in extreme conditions without the need for big hp. In today's market, profitability for any landowner or farmer is essential, savings must be made where possible. The Power Shredder 2™ has been shown to reduce diesel by up to 12% compared to a tractor flail thanks to less load on the engine […]
Blaney Agri brings weed killing to an all new level with the Wipeout 2™. Come along this April to your local demo to view how weed sensing and killing is made as simple as clicking here! Your chance to speak to the team, and let them show you how to save money now!
Live on Farm demos with over 20 machines and new unseen products! Come along this April for one of the biggest Ag events of 2015! Let's meet in the field for feeding, bedding, shredding, hedgecutting, weed sensing and swathing! Some of the products on show will be our world famous Weed Wiper, Power Shredder, Forager X10, Bale Shredder, Aerator, Swather and Hedgecutter! Come along and speak to the team behind […]