WALES FARM GRANT SCHEME NOW OPEN FOR QUAD-X WEED WIPER APPLICATIONS
May 27, 2022
Great new for Welsh famers.  The Wales Farm Grant scheme is now open for applications, with up to 40% funding available on Quad-X Weed Wipers..
The Small Grants Efficiency Scheme supports investment in new equipment and technology to enhance the technical, financial and environmental performance of farm businesses.  The Quad-X Weed Wiper range has been chosen as one of the eligible machinery categories, given that these weed wipers can help you:
Save up to 97% of chemical used for massive cost savings,
Eliminate off-spray and reduce run off for massive environmental benefits
Only kill off the weeds, leaving clover and pasture to flourish
The scheme will pay up to 40% of the cost of the Quad-X Weed Wiper.. Apply now and get your share of the £5M budget.  Applications close 29th June.
Quad-X offer a wide range of weed wipers, in 2.4m and 3m widths, to suit all budgets.
The acclaimed Quad-X Wipeout 2 is patented technology which takes the guesswork out of weed control.  This clever machine detects the weeds and applies the chemical automatically, leaving you free to concentrate on driving. The innovative dual roller system helps to separate out clumps of weeds, prevents drips and gives maximum coverage for up to 100% weed kill in 1 pass.
Our sister company Blaney Agri manufacture a range of tractor mounted weed wipers which are also eligible, avialable in a width of sizes from 2.4m to 6.6m.
With up to £12000 funding available per farm business, now's the time to get clever with weed control for massive savings on chemical, up to 100% weed kill in 1 pass with no offspray, and designed so you can treat weeds even on a windy day.
Applicatio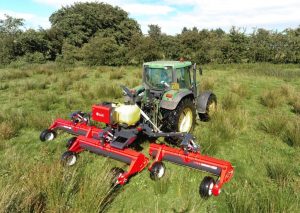 ns must be submitted through Rural Payment Wales Online.Rural Payments Wales (RPW) Online | Sub-topic | GOV.WALES
The minimum grant available is £1,000 and the maximum is £12,000.