Visit stand 7.8, hall 7 at LAMMA Show to find how you can make your quad do more around the yard, farm or garden
April 20, 2022
Quad-X look forward to seeing you at stand 7.8, hall 7 at LAMMA Show.  4th – 5th May, NEC Birmingham.
Visit https://www.lammashow.com to register for free entry
Quad-X manufacture over 100 attachments for ATVs including their acclaimed Power Shredder and Wildcut mowers, Wipeout weed wipers and their eye catching commercial spec dump trailer.
Get geared up for the summer season with some quad equipment to help you with weed control, mowing and strimming. Visit the Quad-X stand to see a fantastic range of tipping trailers including the plastic hopper models and the commerc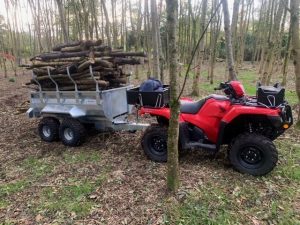 ial spec 1 tonne dump trailers which are now a firm favourite with farmers, landscapers and horse owners.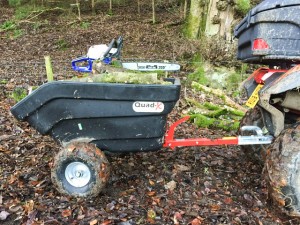 Quad-X will be exhibiting a range of weed control solutions including, weed wipers and mowers. The innovative Wipeout 2 weed wiper is second generation technology boasting up to 97% chemical savings compared to boom spraying, with automatic weed detection and chemical application.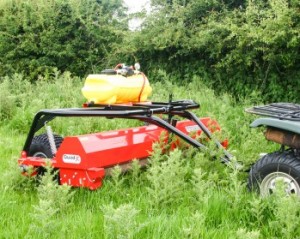 The Wipeout 2 can achieve 100% kill in one pass with no dangerous offspray. With our unpredictable weather patterns this machine cleverly allows you to apply herbicide even on the windiest of days, meaning you can target the weeds at the optimum period of growth for better results.
Quad-X's ATV Wildcut Rotary Mowers are idea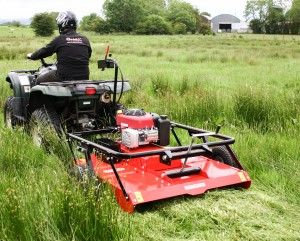 l for topping grass and weeds such as docks, thistles and nettles in areas where tractor access may be difficult. The extreme-duty Wildcut Mower and innovative Power Shredder Mowers are the most capable ATV mowers available and are ideal even if you have heavy 5ft rushes, bracken or heather to cut.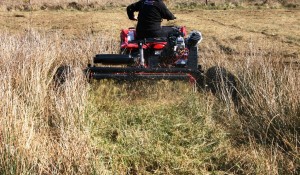 The Quad-X ATV Power Shredder has been designed to shred heavy rushes and other dense vegetation. Considerable investment has been made in the rotor design which rotates at a higher RPM ensuring momentum and faster travel speed. The Power Shredder chops the grass and other weeds very finely into a mulch-like material and spreads them more evenly.
Working closely with customers, Quad-X developed the ATV Strimit to take the back ache out of keeping awkward overgrown areas tidy. Developed for use under fences solar panels, along laneways and verges a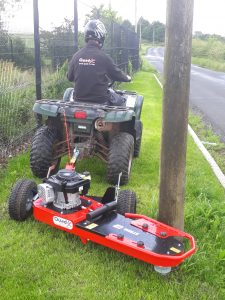 nd around trees the Strimit is designed to fit on any ATV., allowing the user to keep at a safe distance from any debris and clippings, getting the job done from the seat of their ATV.
The Strimit deck can pivot at the centre of the frame allowing greater access to hard to reach areas while a protection bar protects the deck. It runs on 15x6x6 wheels. The cutting diameter is easily adjusted as is the cutting height and drawbar height to allow use with different towing vehicles. The special cord has serrations along its length for impressive cutting. The Strimit is fitted with a 7.5hp Briggs & Stratton engine and easily detachable panels for maintenance.
With an ever expanding range of Quad-X machinery, there are many products to help you get more from your quad this season. For more information about the Quad-X range, to request a brochure or DVD please call 028 2587 2800, or visit www.quad-x.com where you can browse the range and view video footage of the machines. You can also follow quadxmachinery on twitter, instagram and facebook.