See Quad-X at Balmoral Show, STAND A3, 15th-18th May
May 3, 2019
See Quad-X at Balmoral Show, STAND A3, 15th-18th May and see what you could be kitting your quad out with this summer.
STRIMIT
The Quad-X Strimit is the latest addition to the Quad-X range of mowers to tackle overgrown areas that would traditionally be tidied up using a strimmer. It can be used under fences and electric fencers, under solar panels, along laneways and verges. Designed to fit on any ATV this novel machine allows the user to keep at a safe distance from any debris and clippings, getting the job done from the seat of their ATV.
WEED CONTROL- sprayers, wipers & mowers
If you want to keep ahead of weeds this summer, Quad-X will be exhibiting a range of solutions including sprayers and booms, weed wipers and mowers. Quad-X offer a wide range of sprayers and booms that can be used on any ATV or utility vehicle, with capacities from 60L to 230L and boom spray widths up to 16ft. Quad-X can also provide connections for using their sprayers with tractors or 4x4s. The most popular Quad-X sprayer is the Pro Spray, equipped with a high capacity pump carrying a 3-year warranty, which is ideal for both spot spraying and boom spraying. It fits onto any ATV in seconds.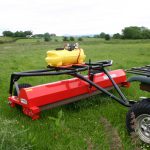 The innovative Wipeout 2 weed wiper is second generation technology boasting up to 97% chemical savings compared to boom spraying, with automatic weed detection and chemical application. The Wipeout 2 can achieve 100% kill in one pass with no dangerous offspray. With our unpredictable weather patterns this machine cleverly allows you to apply herbicide even on the windiest of days, meaning you can target the weeds at the optimum period of growth for better results. Quad-X offer a unique 3m model ideal for use with UTVs.
TRAILERS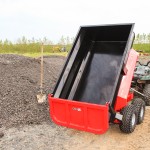 The Quad-X ATV Dump Trailer launched at Balmoral Show 2016 is now a hot favourite among landscapers, farmers, and groundcare professionals needing a commercial spec trailer with maximum capacity.
With an ever expanding range of Quad-X machinery, there are many products to help you get more from your quad this season. A selection of these will be on display at the Quad-X stand, including: new stimit 'mower', sprayers and booms, dump trailer, ATV Wipeout 2, ATV Power Shredder Mower, Fertiliser Sower, True Grit salt spreader, plastic tipping trailers.
For more information about the Quad-X range, to request a brochure or DVD please call +44(0) 28 2587 2800, or browse the website to view video footage of the machines. You can also follow quadxmachinery on twitter and facebook.