Quad-X Launch NEW Dump Trailer
June 14, 2016
UK manufacturer Quad-X recently launched a new commercial spec dump trailer at the Balmoral Show.  This adds to the comprehensive range of 100+ ATV attachments made by the firm in Co Antrim, Northern Ireland.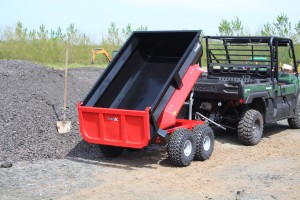 The dump trailer has been engineered for strength and durability, with farmers, groundcare contractors, landscapers, amenities and equestrian customers in mind. Quad-X currently offer an extensive range of 6 models of tipping trailer, ideal for round the farm and garden. This new trailer has been developed to a heavy duty specification for heavier loads and for use with larger ATVs and utility vehicles (UTVs) or compact tractors. A hand pump is available to assist with tipping. When used with an ATV/UTV or tractor an optional electric hydraulic tipping mechanism is available to easily tip at the push of a button, while compact tractors use the tractor hydraulics to tip.
The pivot bogie suspension allows for easier towing over uneven terrain giving extra stability, with knobby flotation tyres making it suitable for wet conditions, and a swivel hitch for safety. The body has been designed for maximum strength using alloy material to keep weight to a minimum. Greasable bushes are used for long life.
Using their extensive knowledge of ATV equipment, the Quad-X engineers have considered the finer details to ensure that the trailer design creates less drag when tipping a large load from the 1000 Litre capacity dump trailer.
With an ever expanding range of Quad-X machinery, there are many products to help you round the farm this summer including sprayers and booms, weed wipers, mowers, and lots more for your grasscare and groundcare needs.
Download a NEW 2016 brochure or for more information or a DVD please call 028 2587 2800.  Follow Quad-X on twitter and facebook by searching for quadxmachinery