NEW Product – UTV Sower
January 9, 2020
NEW Product – UTV Sower:
Quad-X who are known for manufacturing over 100 different attachments for ATVs have recently developed a reliable and robust fertiliser sower to be towed by a UTV, side by side vehicle or 4×4. If you have a UTV such as a Gator, a Mule or a Ranger the Quad-X UTV Pro Spreader is the only commercially available UTV sower that transfers the open/close function of the machine to the operator.
Quad-X have been designing and manufacturing fertiliser sowers for over 25 years and so have a wealth of experience in ensuring this new machine is the most robust sower as well as offering the most accurate spread. At such a busy time of year for farmers it is important to get jobs done, but when the task is sowing fertiliser, it must be a job done well.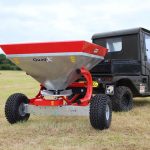 With a frame developed to be up to 85% stronger than any other competitor's towed sower, and a triple bearing system on the axle, the Quad-X Pro Spreader range is the most robust and durable in its class. Although it may not be a product you use every day, it is the type of machine that has to work when you need it. This commercial spec Pro Spreader has a strong steel frame and sturdy hopper which avoids any problem of cracks that can appear in plastic hoppers.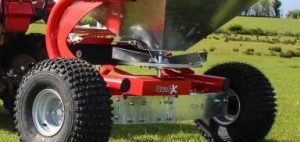 The Quad-X sowers have been designed for our local conditions, using stainless steel components and a 7 stage finishing process for resistance to wet weather conditions and the corrosive nature of fertiliser. Its extra wide axle coupled with the low height of the hopper makes for a sower that is very stable.
Flotation tyres make the Pro Spreader suitable for softer ground. The Quad-X UTV sower has a 680L capacity with removable sides to carry 465L. It is ground driven and has an unrivalled spreading width, which is easily adjusted by regulating the towing vehicles speed. The shutter plate is easily opened/closed from sitting on the UTV with a handy lever to disengage the spinner for travel to outlying fields.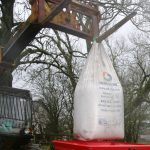 Sowing is pointless unless it is accurate. With fertiliser/urea costing around £300 a tonne, accuracy in application is essential. It is not just about getting the field sown, it should be about getting every blade of grass fertilised, and the Quad-X Pro Spreaders have been developed to be adjustable for a more precise application, tray tested for accurate spreading.
The dished spinner and specially designed spinner vanes have been developed to give a spread up to 50ft with an even application for maximum results and minimum wastage. If you spread 10 tonne of fertiliser a year with a cheaper machine with reduced accuracy you could be wasting up to 30% of your fertiliser. This will cost you £1000 a year, so it is important to make the right investment when buying a spreader.
The UTV Pro Spreader launch has come just in time. As Spring approaches, the focus of most landowners is on growing grass – the lifeblood of any livestock farm. With the challenge of winter, grass is scarce – but the Quad-X Pro Spreader range can help boost grass growth even on wet land. They are a result of years of investment in R&D with continual honing and refining to ensure they offer the most reliable, robust and accurate sowers on the market. The only way to carry out early sowing on many areas of pasture will be using an ATV or UTV. Once ground temperatures reach 5 degrees, urea can be sown to give early bite needed for lambing season.
If you would like to find out more about the Quad-X range of UTV or ATV sowers, request a brochure or DVD please call : from outside UK: 0044 28 2587 2800, from ROI 048 2587 2800, from NI/UK 028 2587 2800, or browse our range online and view video footage of the machines. You can also follow the Quad-X on facebook, twitter or instagram