Make your grass greener with Quad-X
January 31, 2017
Make your grass greener with Quad-X
Coming into the Spring season the focus of most landowners is on growing grass – the lifeblood of any livestock farm. For many farmers, the wet weather can delay taking action…but not any more! Quad-X based in Ballymena have been involved in the design and manufacture of ATV equipment for over 20 years. Their current range of quad sowers and spreaders are a result of years of investment in R&D with continual honing and refining to ensure they offer the most reliable, robust and accurate sowers on the market.
The only way to carry out early sowing on many areas of pasture will be using an ATV. Once ground temperatures reach 5 degrees, urea can be sown to give early bite in good time for lambing season. At such a busy time of year for farmers it is important to get jobs done, but when the task is sowing fertiliser it must be a job done well.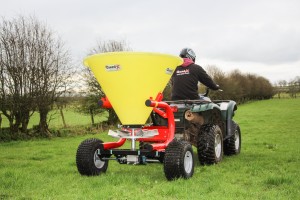 Sowing is pointless unless it is accurate. With fertiliser/urea costing up to £300 a tonne, accuracy in application is essential. It is not just about getting the field sown it should be about getting every blade of grass fertilised, and the Quad-X sowers have been developed to be adjustable for a more precise application, tray tested for accurate spreading. The dished spinner and specially designed spinner vanes have been developed to give a spread up to 50ft with an even application for maximum results and minimum wastage.
The Quad-X sowers have been designed for our local conditions, using stainless steel components and 7 stage finishing process for resistance to wet weather conditions and the corrosive nature of fertiliser. With a frame developed to be up to 85% stronger than all other competitors, and a triple bearing system on the axle, the Quad-X sower range is the most robust and durable in its class. Although it may not be a product you use every day, it is the type of machine that has to work when you need it.
The Quad-X engineers are in tune with agriculture and have developed a range of sowers to be equipped for local conditions where they are often used in rough ground conditions, with high speed bikes and travel between outlying farms. Quad-X sowers offer the best investment with several models available.