Lamma 2018
November 27, 2017
Big things from Small kit at LAMMA
UK manufacturer Quad-X will be showcasing a selection of their ATV machinery range at Lamma Show, stand R59, from 17th-18th January 2018, including their eye catching commercial spec dump trailer and ATV Power Shredder mower. With over 100+ ATV attachments made by the firm in Co Antrim if you have a quad they are sure to have something on offer to make your jobs around the farm, yard or garden easier.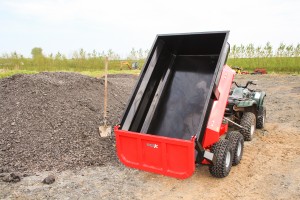 The Quad-X ATV Dump Trailer has become a hot favourite among landscapers, farmers, and groundcare professionals needing a commercial spec trailer with capacity up to 1 tonne. With options for manual, hydraulic or electric hydraulic tip the trailer is equally at home behind a large ATV, UTV or compact tractor.
Quad-X are renowned for their range of weed control attachments, ideal for use in awkward areas, or where the ground is too wet or difficult to access with a tractor. Quad-X offer a number of weed wipers suitable to use with any quad, UTV or 4×4. The acclaimed Quad-X Wipeout will be on display at Lamma – a cleverly designed and patented machine that can detect weeds and apply chemical automatically allowing the operator to concentrate on driving. Thanks to its double roller system the Wipeout can ensure a weed kill of up to 100% in one pass and since it only applies chemical to the weeds without touching the grass, it has been proven to save up to 97% of chemical costs.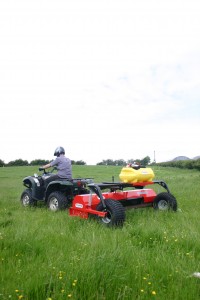 With an ever expanding range of Quad-X machinery, there are many products to help you get more from your quad this season. The ATV Power Shredder Mower is a unique machine designed to shred dense vegetation leaving a fine chop for faster decomposition. With much of the land across the UK set to be too wet for tractor access for weeks to come, the Power Shredders will be a great alternative to a tractor topper or flail when teamed with an ATV/UTV.
If you would like to find out more about the Quad-X range all designed and manufactured in UK, request a brochure or DVD please visit the Quad-X stand R59 at Lamma Show or call the team on 028 2587 2800.